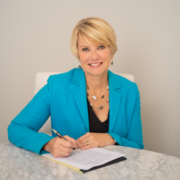 For the third consecutive year, The Best Lawyers in America has selected The Castañeda Firm founder Chrysta Castañeda for the publication's annual list of the top attorneys in the country. She has been consistently recognized for her achievements in oil and gas law.
A veteran energy lawyer, Castañeda and law partner Britta Stanton regularly speak and write on energy issues affecting Texans. This April, Castañeda was featured in The Texas Lawbook for her role as part of the all-female slate of appellate advocates arguing in Texas' historic Winter Storm Uri case.
"In my opinion, there is no one more qualified than Chrysta to advocate for energy stakeholders," said Stanton. "Chrysta has a depth of knowledge that surpasses many other attorneys when it comes to Texas energy law and the escalating legal battles over the state's electric grid."
Castañeda is also the co-author of The Last Trial of T. Boone Pickens. This nonfiction work recounts her experience as the lead counsel on T. Boone Pickens' trial team on Mesa Petroleum Partners LP v. Baytech LLP, et al., a "small contract matter" that evolved into one of the biggest verdicts of 2016. The book was named a finalist for the Independent Book Publishers Association's 2021 Benjamin Franklin Award, and the case was selected for the National Law Journal's Verdicts Hall of Fame last year.
In recognition of the firm's success, in December Castañeda celebrated the firm's "Lucky 7-7-7" party (the firm celebrated its seventh anniversary on July 7) with colleagues, clients and friends.
Castañeda's previous honors include the NLJ's "Trailblazer" recognition, D Magazine's Best Lawyers in Dallas recognition, and five years on the annual Texas Super Lawyers list. She is a past recipient of the Dallas Business Journal's Women in Business Award, the "Women in Energy" Award from Texas Lawyer, and she was named one of the NLJ's Elite Trial Lawyers in 2018.
About The Castañeda Firm
The Castañeda Firm represents litigation clients in the energy industry and beyond. From offices in Dallas, the firm provides extensive experience in a variety of complex litigation, including oil and gas disputes, complex commercial cases, products liability suits, and toxic torts and other environmental matters. For more information, visit www.castaneda-firm.com or contact info@castaneda-firm.com.