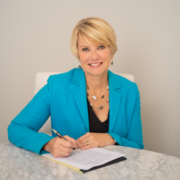 Congratulations to The Castañeda Firm founder Chrysta Castañeda, who is celebrating her fifth year on the list of Texas Super Lawyers for her work in energy and natural resources law.
This year marks a year of growth for Castañeda, who recently brought on litigator and former trial consultant Britta Erin Stanton as a partner at the firm. Together, they have logged multiple speaking engagements on the state of the energy industry, appeared on a podcast on the legal profession, and published an article analyzing the Texas power grid failure and the resulting legislative response.
"Chrysta is a force to be reckoned with," said Stanton. "When she sets her mind to something, whether it's trying a case, writing a book, or running for public office, she gives it her all. It's no wonder she's consistently recognized as a top attorney in her field."
Castañeda was also recently elected to a 3-year term on the Council of the Oil, Gas and Energy Resources Law section of the State Bar of Texas, the oldest – and one of the largest – sections of the State Bar.
A published book author, Castañeda recounted her experience as the lead counsel on T. Boone Pickens' trial team on Mesa Petroleum Partners LP v. Baytech LLP, et al. in The Last Trial of T. Boone Pickens. This non-fiction work, which she co-authored with Loren Steffy, detailed how the case, a "small contract matter," became one of the biggest verdicts of 2016. The book was named a finalist for the Independent Book Publishers Association's 2021 Benjamin Franklin Award.
Castañeda's previous honors include the National Law Journal's "Trailblazer" recognition, D Magazine's Best Lawyers in Dallas recognition and a spot on the annual The Best Lawyers in America list. She has also received the Dallas Business Journal's Women in Business Award, the "Women in Energy" Award from Texas Lawyer and was named one of the NLJ's Elite Trial Lawyers in 2018.
The annual Super Lawyers list, published by Thomson Reuters, recognizes no more than five percent of attorneys from each state and is based on a system of peer review and independent research.