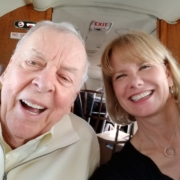 This content was originally published by The Oklahoman.
T. Boone Pickens didn't live to see the COVID-19 pandemic, but he knew something about weathering difficult times. As we deal with the economic consequences of lockdowns, I've thought often about what he might have said about what's happening with the global economy.
Pickens, after all, lost the company he founded in the mid-1950s to the last major oil and gas bust. Out of work in his late 60s, he could have simply retired. Instead, he started over with a hedge fund and made more money than ever. He became a billionaire at age 76.
Growing up in western Oklahoma and the Texas Panhandle, Pickens had a lot of folksy sayings, and I found myself thinking of a few them and how they apply to our current situation.
Show Up Early, Stay Late, Work Hard
A fool with a plan can outsmart a genius without a plan any day
Work eight hours and sleep eight hours — and make sure they are not the same eight hours
Don't fall victim to what I call the "ready aim-aim-aim-aim-aim" syndrome. You must be willing to fire.
If you're going to run with the big dogs, you have to get out from under the porch
I saw this myself when I represented Pickens in an oil and gas dispute in West Texas four years ago. The battle showed Pickens' resilience in the face of adversity.
The case centered on an oil and gas deal known as the Red Bull. Pickens had invested in the deal in 2007, and a few years later, he realized the other companies involved had tried to take his interest without his permission. He hired me and filed a lawsuit, even though he thought the deal was a "peanut investment." He seemed more incensed that someone thought they could take his interest in the deal from under his nose than in the amount of money involved.
After the trial got underway, the case seemed to go against us at every turn. What should have been a simple fact — that Pickens had never signed a document amending or getting out of the deal — was obfuscated by legal arguments from the defense and frequent, and almost consistently, adverse rulings from the judge.
At one point, one of my fellow attorneys told me "we are like The Walking Dead. We are zombies, and any day now the judge is going to shoot us in the head and end the case." Another member of the team was so certain we would lose that she wrote a poem about having to appeal a likely loss to the court of appeals.
But Pickens remained unwavering in his support. At one point, after the judge had cut the potential damages yet again, the other side offered to settle. Pickens refused. "They cut me out of the deal," he told me. "The jury's going to see that if we just get them the case. You're tough. Go get 'em."
Pickens, who was 88 at the time, sat in court every day for the better part of a month. He testified and endured a grueling cross examination. He even suffered a stroke — which wasn't discovered until later — during the proceedings. Nothing kept him from the courtroom.
He approached the case as he did so many other things — in a big way. No one would have blamed him if he had simply dispatched his legal team to deal with the case. After all, the Red Bull investment had been a side deal for him. But Pickens was never one to shy away from a fight, and the trial — his last trial — showed why.
If he were still with us, I have no doubt that he would bring the same determined optimism to confronting the pandemic. He learned that setbacks can bring opportunity. "There's nothing better than being the underdog," he liked to say. "When most people count me out, I count myself in."
Don't count America out. We will come back from this, and we will be more successful than ever.
Chrysta Castañeda is a Dallas attorney and the co-author of The Last Trial of T. Boone Pickens, which is available online and in bookstores everywhere.