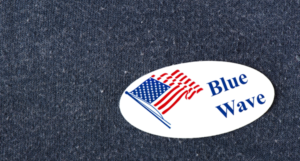 On November 6, the Blue Wave hit Texas like a tsunami. You didn't hear? Perhaps you are not a close follower of the Texas courts of appeals. Democrats took control of the Houston, Dallas, Austin and San Antonio courts of appeal. The change is historic: these courts have been controlled by Republicans for the past two decades.
What impact could this have for businesses involved in litigation? Among other things, court watchers expect the following:
Fewer summary judgments to survive,
That use of arbitration clauses to avoid court will be reined in, and
That high-dollar judgments will have a greater chance of survival.
For clients who have faced the expense and delay of Anti-SLAPP motions to dismiss, closer scrutiny of that overused tactic is also expected. And, businesses in the oil patch may face increased litigation costs from courts of appeals that favor maintenance of the jury system.
Greater chances for business plaintiff cases
There is little doubt that the long-running conservative bent to the courts of appeals and the Texas Supreme Court has served to limit the litigation risk of defendant businesses. High-dollar verdicts and judgments have been scrutinized just because they are high. The use of summary judgment to dispose of cases before they reach a jury has been supported. Anti-SLAPP motions to dismiss – the tactic whereby the plaintiff is required to prove each element of its case within 60 days if the suit affects rights of speech or association – have proliferated and infected the legal system in a way that the Legislature never intended.
Some commentators have observed that the Anti-SLAPP statute has all but done away with theft of trade secrets cases, because it is so difficult to prove each element of such a case within the first 60 days. Clearly, businesses need to be able to protect themselves from the theft of their trade secrets, and injunctive relief from a court is an essential tool to do so.
Commentators also expect more cases to go to a jury trial. In fact, one trial judge, newly promoted to the court of appeals, would openly reject arbitration demands in consumer or employment litigation just because they were unfair, even if enforceable. It is no secret that many of the newly elected justices staunchly believe in the 7th amendment right to trial by jury.
Impact on the Oil Patch
Oil companies could be greatly impacted by the change in court constituencies. Because oil is so lucrative and business opportunities are generally measured in terms of the profits they would generate, the damages in oil patch business disputes are some of the highest on record.
Another potential avenue for change is in statutes of limitations and fraud cases. Oil patch defendants have been pretty successful in forcing a strict application of the four-year limitations period to a number of disputes, but there is still uncharted territory when it comes to application of the discovery rule and fraudulent concealment doctrines, which serve to extend the limitations period. And in fraud cases, while recent case law has heavily applied the doctrine of caveat emptor (buyer beware), we can expect that the more liberal courts of appeal will be less willing to protect alleged fraudfeasors prior to a jury's determination of the facts.
But isn't the Texas Supreme Court still Republican?
Yes. And may remain so for some time. However, there is no automatic right of appeal to the state's highest court. Discretionary review happens when the Texas Supreme Court decides to grant a petition for review. Such petitions are granted only about 15 percent of the time. So, even if a business litigant decides to seek review by the Texas Supreme Court, it is a long shot that the court will hear the dispute and an even lower possibility that it will reverse the lower court decisions.
In sum: business litigants need to assess odds in light of a pretty dramatic change in the litigation landscape. If you are a business plaintiff, you might favor going ahead and filing the case. If you are a potential defendant, you might assess your business processes and decisions in light of a possibly less favorable litigation environment.
Chrysta Castañeda, the founding partner of Dallas' The Castañeda Firm, is a commercial litigator focusing on oil and gas litigation. Her $145 million verdict on behalf of T. Boone Pickens and Mesa Petroleum in Mesa Petroleum Partners v. Baytech et al. was recognized as one of the largest in the nation in 2016 by the National Law Journal and one of the largest in Texas by Texas Lawyer. She was also named a 2018 Elite Trial Lawyer by the National Law Journal. She can be reached at chrysta@castaneda-firm.com.