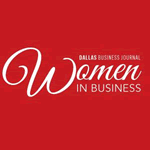 The Castañeda Firm founder Chrysta Castañeda was honored at the Dallas Business Journal's 2019 Women in Business Awards on Aug. 21 at Dallas' Fairmont Hotel. The award recognizes women for their outstanding professional achievements and contributions to the Dallas business community.
In addition to the luncheon, Ms. Castañeda and the other honorees were profiled in a special edition of the Dallas Business Journal. Her firm is also featured in a Digital Spotlight on the DBJ website.
This DBJ honor is the most recent recognition for Ms. Castañeda, who was named to the National Law Journal's 2018 list of Elite Trial Lawyers, D Magazine's list of the Best Lawyers in Dallas, and the Super Lawyers list of outstanding attorneys. She also received the "Women in Energy" Award from Texas Lawyer.
"I look forward to reading the Business Journal's women in business list every year," said Ms. Castañeda. "The honorees' credentials are always impressive, from how they've elevated their own companies and the business community as a whole, to the work they do for the greater good. So it's a great personal and professional honor to be selected as one of them."
Ms. Castañeda was lead counsel in Mesa Petroleum Partners v. Baytech, which earned a $146 million verdict that was recognized as one of 2016's largest verdicts in the country, according to the National Law Journal, and the fifth largest in Texas by Texas Lawyer.
"'Elite' is a great word to describe Chrysta," said Carol Payne, who nominated her for the award. "She's always been an accomplished attorney, and it's nice to see her get the recognition she deserves."
Outside of her legal practice, Ms. Castañeda serves on the board of directors for the Texas Women's Foundation, which helps advance social and economic change for women and girls across Texas.
About The Castañeda Firm
The Castañeda Firm represents litigation clients in the energy industry and beyond. From offices in Dallas, the firm provides extensive experience in a variety of complex litigation, including oil and gas disputes, complex commercial cases, products liability suits, and toxic torts and other environmental matters. For more information, visit www.castaneda-firm.com or contact info@castaneda-firm.com.