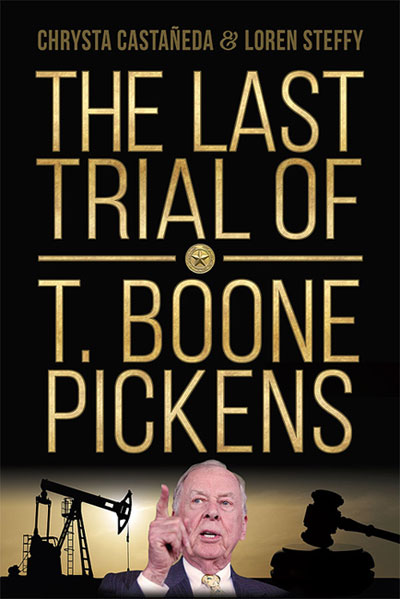 On September 11, the one-year anniversary of the death of legendary Texas oilman T. Boone Pickens, Texas Lawbook will host a CLE webcast to look back on his life, business career, and major legal battles, including his final courtroom drama in Pecos, Texas. That trial ended in a $146 million verdict.
The webcast, from 12-1:15 p.m., will feature:
Chrysta Castañeda, name partner of The Castañeda Firm and co-author of The Last Trial of T. Boone Pickens. Chrysta is the Democratic nominee for the Texas Railroad Commission, the state's oil and gas regulator, running on an environmental platform.
Loren Steffy is a writer-at-large for Texas Monthly, an executive producer for Rational Middle Media and a managing editor of 30 Point Strategies. Steffy is the former business columnist for the Houston Chronicle and also has been the Dallas and Houston bureau chief and a senior writer for Bloomberg News. He is the co-author of The Last Trial of T. Boone Pickens.
Joe Nocera is a columnist with Bloomberg. Over the years, he has written business stories and columns for the New York Times, Fortune, Esquire, GQ and Texas Monthly. He met Boone Pickens in 1982, when he wrote a Texas Monthly cover story about Boone's first big takeover attempt.
Mike Lynn (moderator) is the founder and chair of Lynn Pinker Hurst & Schwegmann, a prestigious litigation boutique. He has tried more than 120 civil and criminal trials, including serving as Chrysta's co-counsel in the trial featured in The Last Trial of T. Boone Pickens.
Registration is $50 and includes a signed copy of The Last Trial of T. Boone Pickens. To register and reserve your copy of the book, email Texas Lawbook's Brooks Igo at brooks.igo@texaslawbook.net. This event is sponsored by Lynn Pinker Hurst Schwegmann.