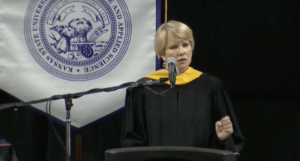 Chrysta Castañeda was honored to give the commencement speech for her alma mater, Kansas State University College of Engineering, on December 14.
"The advice to 'follow your passion' I have found is mostly useless," she told graduates. "You earn your passion through hard work. Passion follows effort, not vice versa."
She also advised the class of 2019 to stay in touch with classmates because "they will rise to the tops of their networks, as you will with yours. Staying in touch with people in your network will be key to your future."
"Finally, never forget that the ability to do engineering is a superpower," she said. "I have studied both engineering and law, and the discipline of first having mastered engineering has transferred to every single thing I have done since. It has allowed me to succeed as a lawyer and as an entrepreneur. It allows me to believe that there is nothing in this world that I cannot understand and conquer, if I only sit down to apply myself.
"Through your mastery of the engineering curriculum, you have also gained this superpower," she said. "I urge you to use your superpowers for good as you go forth in the world."
Ms. Castañeda earned her B.S. in Industrial Engineering in 1985 from Kansas State University and her law degree cum laude in 1991 from Southern Methodist University's Dedman School of Law, where she was special edition editor of the Southwestern Law Journal and Order of the Coif.