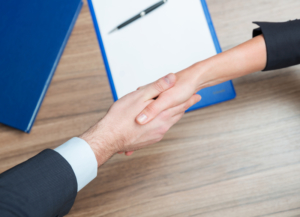 I regularly write status reports to my clients, something I assumed most lawyers did. Surprisingly, however, my clients often tell me that they don't get status reports on their matters from other lawyers.
With that in mind, I decided to write this blog post to raise clients' expectations of what they should be getting from their lawyers, both in terms of service and communication.
Most people don't regularly have teams of lawyers working for them, so they have no point of reference on what to expect from their outside counsel. Even if you do, you may be asking yourself, "Am I being treated well? What should I expect?"
Having a good working relationship with your outside attorney will help your deal or litigation succeed. But, like all relationships, it takes work on both sides. Here are a few things to look for to make sure you are getting your money's worth out of your legal representation, and a few tips for you, the client, on how to help your attorney help you:
Do you know the status of your case or deal?
Above all other considerations, you have a right to be informed about the status of your case or deal. Here are the things you should be told on a regular basis:
Any upcoming deadlines
Latest developments in discovery, including brief summaries of key evidence
Who is doing what work on your matter
What projects have been accomplished and what remains to be accomplished
Inflection points that can possibly change the trajectory of your case or deal – what they are and when they may arise.
If you have not heard from your attorney in several weeks or a month, let them know that you expect to be informed about these matters more regularly. If there is a reason for a hiatus – such as a stay imposed by the court – ask the attorney how long it will last and have her set an appointment to follow up with you when the matter is likely to be active again. If your attorney remains uncommunicative, think about getting a different one or looking for new counsel when your next matter arises.
Are you getting your attorney's full attention?
You hired your attorney believing that person was the best fit for your case. Of course, your attorney is likely to be working for other clients at the same time. But when working for you – at a deposition, arbitration, mediation, meeting or in court – are you getting your attorney's full attention? A lawyer who treats clients well pays full attention to the client in front of him or her. Multi-tasking is an inefficient and ultimately costly exercise. If your attorney is looking at the phone too much or texting others while representing you, you are entitled to better treatment.
Is the attorney you hired the one who is doing the work?
If you hired a big firm for a case or deal, you likely interacted in the pitch process with only one or two of the team members who will ultimately represent you. However, you are entitled to know how your matter is being staffed. Some questions to ask:
What can you expect from the lead partner, the junior partner, the several associates and the assistant or paralegal?
Who will be keeping you up to date?
Will attorneys and paralegals be used appropriately to their level of experience, or you be charged for more expertise than necessary (because more senior attorneys command higher billing rates)?
Conversely, will the expertise be there when you need it, or has the top lawyer oversold his or her availability?
Are there times when she or he will be unavailable?
You are entitled to know how your representation will be staffed and what you can expect.
Are you shocked by the bills?
You shouldn't be. You are entitled to know, up front, what rates you will be charged by every attorney working on your matter. You are entitled to know in advance who will be covering the major aspects of your work, generally speaking. You are entitled to know approximately how much time it will take. If you ask for a budget, you should receive one. Not every client wants to know these details, but if you want them, you are entitled to this information.
Moreover, when you receive the bills, you should be able to read them and know what happened in your case or deal. The billing description should make sense to you. And the partner who sends you the bill should run down the top 2 or 3 things that made up the bulk of that month's expenditures.
Let's face it: in the current environment, when experienced litigators charge close to $1,000 per hour and deal lawyers even more, legal bills can be quite high. But you shouldn't be surprised about those bills if you are receiving adequate information from your attorneys.
How you can help yourself – and your attorneys to help you
You have a right to make requests of your attorneys. Here are some good ones to make:
Let me know when you will be communicating with me about the status of my matter – weekly? Twice a month? Monthly?
What kind of information will you provide?
Can you give me a budget for the next three months? Or for specific tasks (mediation, TRO, etc.)?
Will you let me know which attorneys will be doing what tasks?
Can you give me a general timeline for the events in my matter?
When are there likely to be inflection points?
Are there times when you, the attorney, will not be available? (Think vacations, other trials, etc.)
With whom may I communicate if you are unavailable?
Finally, know that a good attorney-client relationship is not a one-way street. Attorneys cannot read your mind, but they should respond to reasonable requests (such as these). And your attorneys are entitled to be paid on a timely basis, generally within the month after a bill is rendered. If you are communicating well with them and keeping up your part of the contract, then you should expect – and receive – good treatment.
About The Castañeda Firm
The Castañeda Firm represents litigation clients in the energy industry and beyond. From offices in Dallas, the firm provides extensive experience in a variety of complex litigation, including oil and gas disputes, complex commercial cases, products liability suits, and toxic torts and other environmental matters. For more information: www.castaneda-firm.com.